CentralF review
23 October 2023

It's not often I get blown away by a demonstration of a new product, but CentralF was one of those times.
The nirvana for Hybrid Work is cost savings from reduced office space, managers who feel in control combined with a happy and productive workforce.  While no process or software package is going to achieve all of these ambitions, CentralF gets you within touching distance of it. Read our CentralF review to find out how it does it.
To many employers Hybrid Work seems a good compromise between their desire to get staff back into offices and the resistance of employees to lose the flexibility and freedom from commuting that they experienced during the COVID pandemic.  Huge numbers of employees became used to and thrived on remote work during the pandemic and the weight of evidence from a host of surveys is that people are more productive working remotely. However, staff seem to want more social interaction than they get in fully remote work and employers and managers get a warm glow from actually seeing people working in an office.  All sorts of insecurities about losing company culture and diminishing creativity recede a little when employers can bring staff back into offices.   All of these factors are leading to Hybrid fast becoming the de facto approach to working practiced in most offices.   
However, hybrid work is full of issues :-
Office space
How much office space do you need both today and going forward?
How much revenue can you realistically save on office rental and associated overheads?
Managing people
How do managers track where their team members are when they could be remote, in an office, somewhere on a train or car between both, sick or on vacation?
How do managers get their teams together for face-to-face meetings, how do individuals or cross departmental teams meet up? This usually involves tiresome and time-consuming e-mail and messaging interchanges to set things up. It's a whole lot easier to either work fully remote or fully office based!
Some people are more productive in the office, some more productive remotely. Some hate working remotely, some love it.  How can you manage this fairly?
Being fair
It's hardly a shock that if you ask people which days they'd like to work remotely, Monday and Friday come top of the list. Clearly you can't let the whole company work remotely those days or you're going to end up needing nearly as much office space Tuesday to Thursday as you would if remote working was banned!
Then there are the promotion seekers. They see advantage in being seen by senior management, so will try to be in the office as frequently as possible.  This risks claims of discrimination and unfairness, particularly as research shows women are more likely to want to work from home than men.  Can you track and do something about this?
As hybrid working evolves, how can I tell if people are happy with their remote/office split?
Providing a desk
If you can't guarantee an appropriate desk when staff arrive you won't get people to come into the office. How can people who come in to the office be certain that they'll find a desk with the right facilities?
When people come into work it's always going to be more productive if teams and people who interact frequently can sit close to each other. How can you make this happen?
So how does CentralF fix this?
It's hard to believe that one package can fix all of this, but CentralF has a very good go!  Carry on reading our CentralF review if you don't believe it!
Much of the package is based around an AI engine that collects data on how people want to work, what they do and don't enjoy, how well they're completing their work, how their managers want to manage and how the company want to balance remote and office-based work.
Scheduling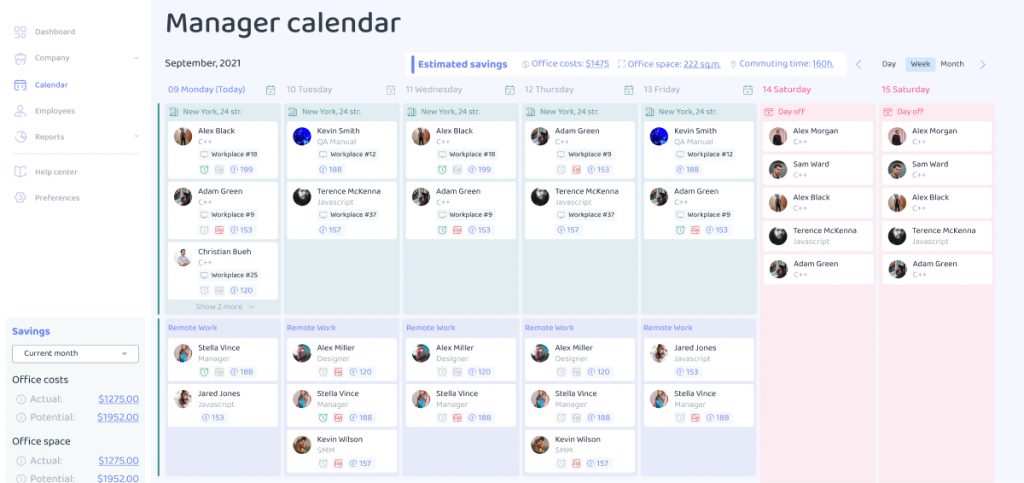 It does the difficult stuff, like scheduling who's going to be in and out of the office each day, books desks so no-one arrives without a desk to go to and asks people if they're happy with how they're being asked to work.  It marries personal work preferences with the needs of the team and company and manages the remote/office split with minimal overhead for employers, managers and employees.
Co-ordinating times when managers want to meet staff face-to-face and people want to meet each other in the office becomes a lot less painful, with individuals and managers setting their preferences and CentralF automatically devising schedules based on that.
Managing how much office space is required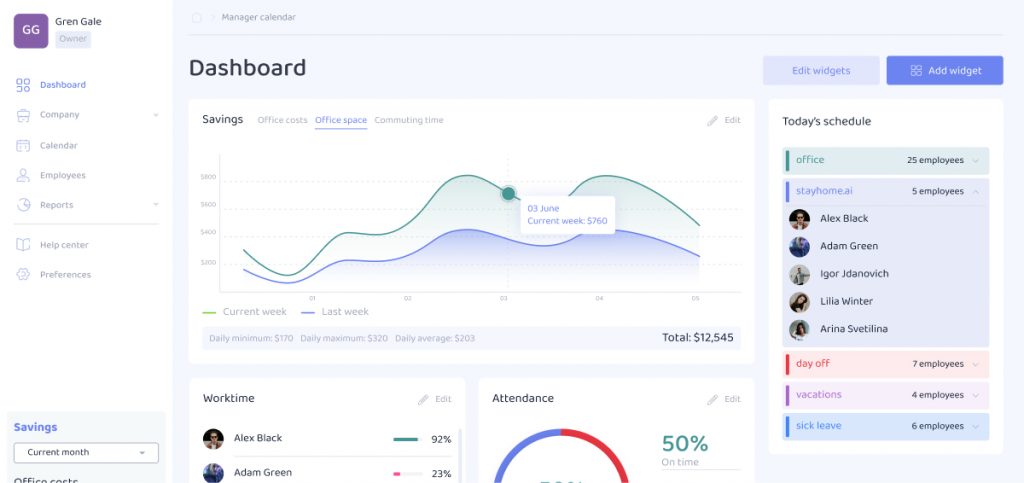 It also makes it easy for employers to decide how much office space they need and models how much money they could save by letting office space go and for instance swapping it for co-work spaces.  This isn't a one-off, it keeps this analysis going, so if it detects changes in patterns of work or under use of facilities it will proactively make suggestions to save an employer money without compromising the feelings or productivity of employees.  CentralF also lets you try out a series of 'what-if' scenarios varying parameters to determine the optimal balance between employee satisfaction and office space savings for your working environment.
Feedback from employees and from software linked to CentralF
Just like an employee engagement package, employees are regularly asked for feedback on how they feel about how well they're focusing and engaged in work and how they perceive their work/life balance is playing out.  The AI engine uses this data to ensure that changes in work patterns are not adversely affecting staff and reports to management if things are going the wrong way.  CentralF's AI engine guzzles in whatever data it can to help it to understand work patterns and productivity and make suggestions for improvements.  It has close a integration with Jira so it can analyse the speed and success rates of tasks carried out on remote work days vs those carried out in the office.  It also integrates with Outlook, Google Mail and Slack so that it can work out who talks to who most and this influences how it allocates office seating, trying to keep 'friends' close together.
CentralF mobile app

CentralF has a mobile app that runs on Android and iOS.  The mobile app supports all of the browser functionality.
Pricing
CentralF costs $5 per person per month, but contact us if you're interested – we should be able to get you a better deal than that.
Conclusion
If you're looking to go hybrid then it's hard to ignore CentralF.  As far as we're aware it's unique and just about the only tool that holistically manages hybrid work.  There are few tools we unreservedly recommend – this is one! If you'd like to know more then contact us.
If you enjoyed our CentralF review please read our reviews section for more reviews of Remote and Hybrid work products.
Gren Gale is a consultant in Remote Work and Project Management and has been named as one of the top 19 Key Opinion Leaders globally in remote work in Who's Who in Remote Working?  He is author of the Remote Project Manager and Remote Work The New Normal.
Articles and reviews on this site are written from an unbiased viewpoint.  We only review products which are relevant to Remote Work or Project Management and ones we believe in.  Once this CentralF Review was written we looked to see if some of the links could generate affiliate income.  It won't make us rich but it helps pay the rent!