Firmbee Review

22 April 2022
Firmbee is an interesting package – a real curate's egg.  While its project planning capabilities are a bit immature it includes some really quite advanced features including project costing, time recording, costing by individual and invoicing.  Firmbee is much more than just a project management package.  It supports check-ins where employees can be asked any set of questions on a regular basis – not unlike an employee engagement tool.  Firmbee also has recruitment functionality which allows you to agree and write up hiring requirements and track individuals through the recruitment process.  As if that wasn't enough they've also included some simple CRM functionality.
Firmbee are part of a much larger group Ifirma established in Poland for over 20 years.  The package was launched at the end of 2021 based on software that Ifirma have been using within the group and in a very short time has managed to pick up over 16,000 users.
Project/Task Management
Firmbee lets you produce 'issues'.  Its issues can be an Event, a Task or Meeting.  Each can be assigned start and end dates, the section of the Kanban board they're going to appear in and where they will be carried out.  You can also attach relevant documents to an issue and include sub-tasks.  Issues can be assigned to one or many individuals.  Dependencies are included but only at a very simple level.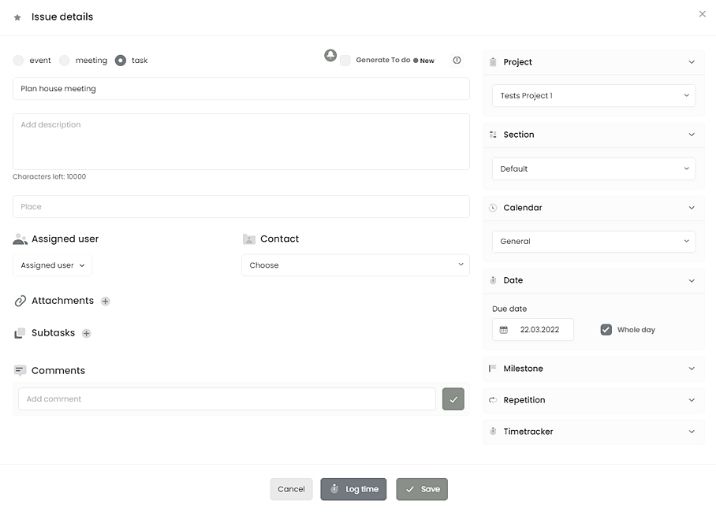 Projects can be viewed as task lists or Kanban boards but not as Gantt charts.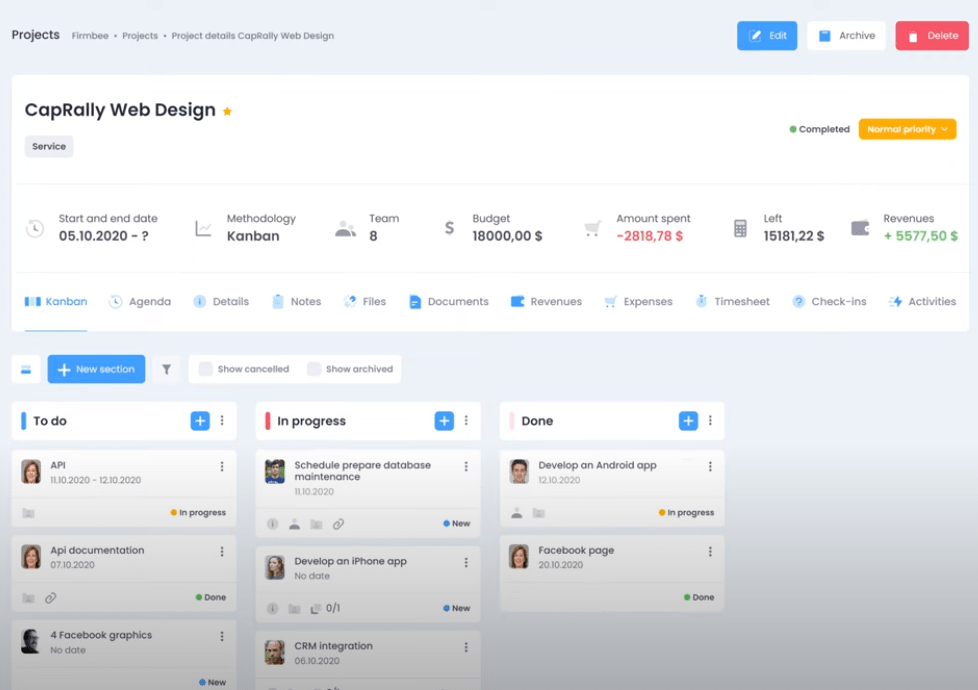 Firmbee also provides a to-do list for individuals to set up personal reminders.
Resourcing
In line with its other features, resourcing is a mixed bag.  It won't allow you to view and flatten out resourcing across a number of projects but it will allow you to assign costs to individuals by project and produce invoices.  Firmbee allows you to set a budget for the project and attach hourly rates to individuals.  You can vary hourly rates for individuals depending on what project they are working on – a handy feature for service companies who may be charging different rates to different clients.
Team members log time to tasks they are assigned to and Firmbee provides a spend to date and budget remaining against the original budget per project.
Reporting
As yet, Firmbee's reporting capabilities are a bit thin.  You can't produce project status reports automatically and its ability to show resource usage and performance across the entire portfolio is limited.
Invoicing and finance
Firmbee lets you send and track invoices by project and by customer.  The invoicing module handles currencies, taxes as well as employee expenses.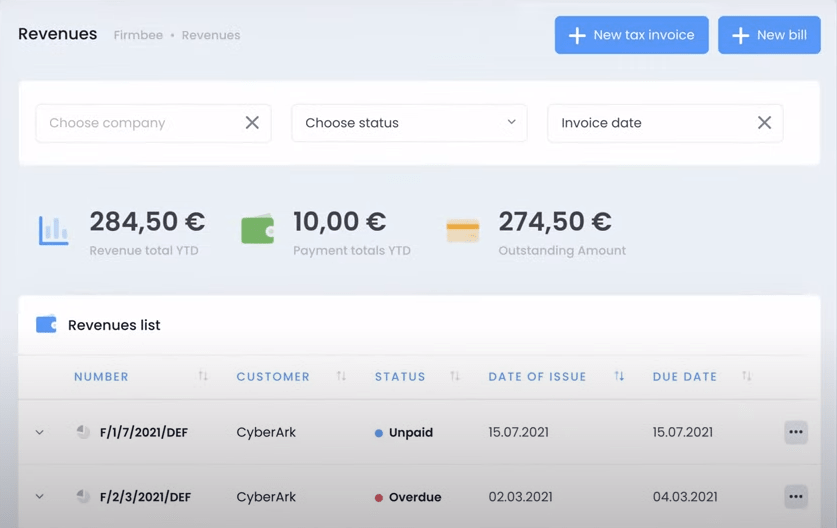 Recruitment
I'm pretty sure I've never come across a project management package that helps you manage recruitment.  Firmbee does!  You can set up job requirements, track recruitment advertising and the interview process and maintain shareable information on candidates.
Pricing
Firmbee is free and will continue to be for existing users but a paying version with richer functionality is planned for launch in July 2022.
Verdict
The conclusion of our Firmbee review is that this interesting and unusual package is well worth a look. In our classifications of project management packages, we'd rate it as a Task Management tool, so it's great for workflow and scheduling small pieces of work, but wouldn't work as well for supporting a medium to large sized complex project.
However, not only does it have many features we'd only expect to see in a Classic Project Management tool such as project costing, timesheets and invoicing, it also has interesting features that you wouldn't normally expect to see in a project management package, like employee engagement, recruitment and CRM functionality.  In some respects, this makes it a niche product.  It would work very well for recruiters wanting to manage their processes end-to-end as well as companies carrying out small projects that they need to charge and invoice customers for.
When we talked to Firmbee they have real ambitions to improve the project management aspects of the package, so watch this space.
So given it's free for the moment, why not give Firmbee a try.
Want more help buying a project management package?
If you've enjoyed our Firmbee review then take a look at our review of the 19 top project management packages and what we believe are the top 21 features you need to look for when buying a project management package.
You can see reviews of other products for remote work in our reviews section.
Need more help?  Contact us now.
Gren Gale is a consultant in Remote Work and Project Management and has been named as one of the top 19 Key Opinion Leaders globally in remote work in Who's Who in Remote Working?  He is author of the Remote Project Manager and Remote Work The New Normal.
Articles and reviews on this site are written from an unbiased viewpoint.  We only review products which are relevant to Remote Work or Project Management and ones we believe in.  Once this Firmbee Review was written we looked to see if some of the links could generate affiliate income.  It won't make us rich but it helps pay the rent!